[an error occurred while processing this directive]
Taken from a discussion on the Usenet
---

Dear Goce:

I understand perfectly well that what our grandparents and great- grandparents did in Macedonia ninety-two years ago and what you are doing now are different things, and maybe not just different, but irreconcilable. I cannot judge you for what you are doing now -- it is your right and privilege. But I can definitely teach you about the past because it is our common past and you were given a distorted picture of it.

I presume, of course, that you are interested in the facts as such: unaltered and neutral, just facts, while the conclusions are left for the individual to draw.

I will bring to your attention a book much spoken of in Vardar Makedonia over the last 50 years, the time when your parents' and your own national conscience were formed: the so called "Pesni" of Konstantin and Dimitar Miladinov. You were taught that this was the beginning of the Macedonian language, that the two brothers were the first true Macedonian poets, etc., etc. But you were never allowed to see what the original edition of this seminal work looked like -- not even in a photocopy. Furthermore, I submit to you that a number of copies of the original edition were stolen from Western libraries, including 2 of the 3 copies owned by the U.S. Library of Congress. Was it from love of this first manifestation of the Macedonian language or, to the contrary, from a desire to suppress the truth about it? Even so, it is still possible to find a few copies of this book in world libraries, although you cannot borrow them. The book has been placed on the special list of protected works.

I have traced three copies of the original in the U.S.: in the Hoover Library of Stanford University, it has library number D 0004180543; at both the Library of Congress and the UCLA (University of California at Los Angeles) Library, it has LC number PG1014.M5 1861. The exact title is Bulgarski narodni pesni sobrani od Bratja Miladinovtsi Dmitrija I Konstantina I izdani od Konstantina. V Zagreb, (V Knigopechatnitsata na A. Iakicha), 1861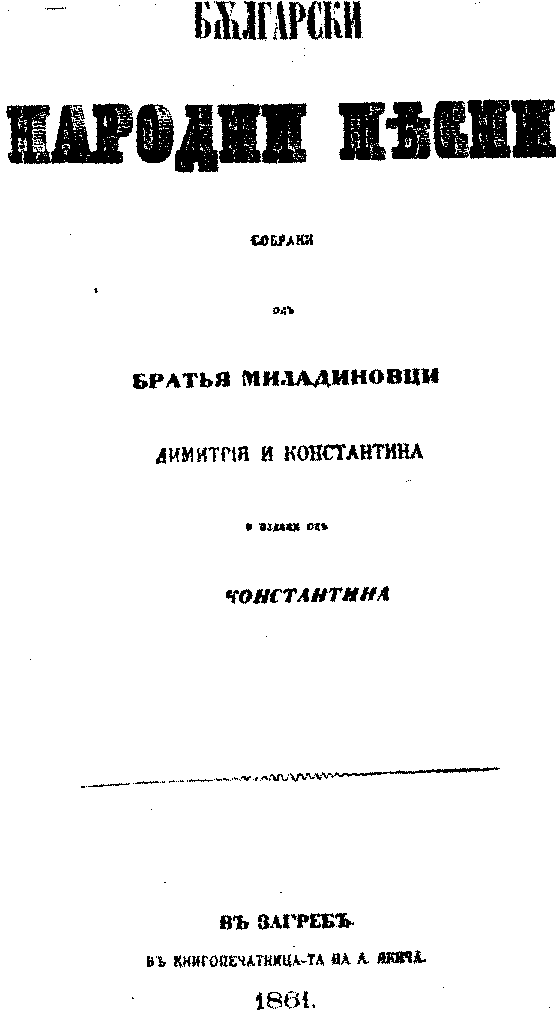 If you order a xerox copy or microfilm of the book, you will learn from the Brothers why they chose this title and what they thought was their language and their nationality. You cannot learn this from the Skopje or Beograd editions of the book -- just see how the title has changed:
Miladinovi, K. i D., "Pesni " (Dushko Nanevski), Skopje, 1975
Miladinovi, K. i D., "Zbornik na narodni pesni" (Haralampie Polenakovich i Todor Dimitrovski), Skopje, 1983
Miladinovi, D. i K., "Juglovenski klasici. Izbrana dela (Todor Manevich), Beograd, 1965
Now, after you have seen the evolution of the title of the Miladinovs' Bulgarian folk songs, you might want to see the evolution of their language, too. For this you need Blazhe Koneskiís book "Svecen sobir posveten na 125-godishninata od izleguvanjeto na Zbornikot na Miladinovtsi,", Skopje, 1987. It might be instructive to compare the original songs with Mr. Koneski's renditions.

If I were you, I would take the opportunity of living in the free world to investigate the facts behind this bibliography, and after doing so I would most likely feel cheated and violated that someone had been playing this kind of games with me.

As I said at the beginning, as far as I am concerned, you can be whoever you want to be, and the rest of us are bound to respect your choice.

Best wishes,


Ilya Talev
---
How to Check the Titles of Different Editions of Miladinovs' Book On-line
What follows is a record of a telnet session with Melvyl - the University of California and California State Library System On-line Catalog. The records are slightly abbreviated (<...>), but anyone interested can search for books by Dimitar Miladinov as an author directly at Melvyl.
telnet MELVYL.UCOP.EDU
Trying...
Connected to MELVYL.UCOP.EDU.
Escape character is '^]'.



DLA LINE 147 (TELNET) 18:21:28 10/13/95   (MELVYL.UCOP.EDU)

Please Enter Your Terminal Type Code or Type ? for a List of Codes.

TERMINAL? vt100
Press RETURN for the MELVYL System ->
<...>
-> CAT
<...>
-> FIND PA MILADINOV, DIMITUR
   Search request: FIND PA MILADINOV, DIMITUR 
   Search result:  16 records at all libraries

   Type D to display results, or type HELP. 

CAT-> D

Search request: FIND PA MILADINOV, DIMITUR 
Search result:  16 records at all libraries

Type HELP for other display options. 

1. Bulgarski narodni pesni / subrani ot bratia Miladinovi.  Sofiia : Nauka i
   izkustvo, 1981.
       UCB   Music     PG1189 .B8 1981
       SRLF            A 0009707852 Type EXP SRLF for loan details.
<...>

3. Miladinov, Dimitur, 1810-1862.
     Bulgarski narodni pesni / bratia Miladinovi.  Sofiia : Bulgarski pisatel,
   1968.
       UCB   Main      PG1189 .M47 1968

4. Miladinov, Dimitur, 1810-1862.
     Bulgarski narodni pesni. Sobrani ot Bratia Miladinovtsi, Dimitriia i
   Konstantina i izdani ot Konstantina.  4. izd. Pod red. na Petur dinekov.  
   Sofia, Bulgarski Pisatel, 1961.
       NRLF            B 3 724 170 Type EXP NRLF for loan details.

5. Miladinov, Dimitur, 1810-1862.
     Bulgarski narodni piesni sobrani od Brat'ia Miladinovtsi Dimitriia i
   Konstantina i izdani od Konstantina.  V Zagreb, V knigop. na A. IAkicha,
   1861.
       SRLF            D 0004180543 Type EXP SRLF for loan details.

6. Miladinov, Dimitur, 1810-1862.
     Bulgarski narodni piesni / Bratia Miladinovi.  3. izd. / pod red. na M.
   Arnaudov.  Sofiia : Ministerstvo na narodnoto prosvieshtenie, 1942.
       UCB   Main      PG1189 .M47 1942
       UCLA  URL       PG 1014 M59b 1942
       SRLF            A 0010042968 Type EXP SRLF for loan details.

7. Miladinov, Dimitur, 1810-1862.
     Bulgarski narodni piesni / sobrani od brat'ia Miladinovtsi, Dimitriia i
   Konstantina i izdani od Konstantina v Zagrebu na 1861 godina.  2. izd od
   Mitra, supruga na D. Miladinov.  V Sofiia : Liberalni klub, 1891.
       UCB   NewsMicro MICROFILM 18660 PG

8. Miladinov, Dimitur, 1810-1862.
     Izabrana dela [Za stampu priredio Todor Manevic].  Beograd, Narodna
   knjiga, 1965.
     Series title:  Jugoslovenski klasici.
       NRLF            $B 164 042 Type EXP NRLF for loan details.
       SRLF            A 0009687286 Type EXP SRLF for loan details.

9. Miladinov, Dimitur, 1810-1862.
     Miladinovci; sbornik, 1861-1961. [Red. odbor: Dimitar Mitrev, Kiril
   Penusliski i Aleksandar Spasov].  Skopje, Koco Racin, 1962.
       UCLA  URL       PG 1164 M58m

<...>


13. Miladinovtsi : zbornik, 1861-1961 / [redakciski odbor Dimitar Mitrev ... et
    al. ; glaven urednik Slavko Janevski].  Skopje : Koco Racin, 1962.
        UCB   Main      PG1189.B8 M5 1962

<...>

15. Svecen sobir posveten na 125-godisninata od izleguvanjeto na Zbornikot na
    Miladinovci / [urednik Blaze Koneski].  Skopje : Makedonska akademija na
    naukite i umetnostite, 1987.
      Series title:  Sveceni sobiri ; sveska 30.
        UCB   Main      PG1195.M53 Z923 1987

16. Zbornik na narodni pesni / [sobrale] Dimitrija i Konstantin Miladinovci ;
    pod redakcija na Haralampie Polenakovik i Todor Dimitrovski.  Skopje :
    Makedonska knj., 1983.
        UCB   Main      PG1188 .M5 1983


There are no more records to display. Type PS to see previous screen.
CAT-> D 5 LONG

5. 
Author:        Miladinov, Dimitur, 1810-1862.
Title:         Bulgarski narodni piesni sobrani od Brat'ia Miladinovtsi
                 Dimitriia i Konstantina i izdani od Konstantina. V Zagreb, V
                 knigop. na A. IAkicha, 1861.
Description:   542 p.

Notes:         Romanized record.

Subjects:      Folk-songs, Bulgarian.

Other entries: Miladinov. Konstantin, 1830-1862.

Call numbers:  SRLF            D 0004180543 Type EXP SRLF for loan details.


CAT-> exit
[an error occurred while processing this directive]